This week we are sharing some great activities for the month of October. These four activities are all a good opportunity to practice fine motor and sensory skills in the early years. For those that don't already know, development of fine motor skills involves improvements in the control of the small muscles in the hand associated with holding writing implements and implementing precise movements. Sensory skills are those associated with the five senses. In the early years, children learn primarily through engaging these sensory systems.
The October activities are beneficial for children because, like the Reggio Emilia approach (which is practiced at Parkland Players, they focus on the process rather than the final product, making it so that activities are open-ended and children can experience them at their own rate and in their own ways. This allows for children to set the pace of their own development and get the most out of their educational experiences.
Fall Cork Painting (Pre/GD/IT)
Developmental Goal/Activity Objective:
To practice creative and sensory skills.
Materials Needed:
Wine bottle corks
Paint (red, orange, yellow, brown)
White paper
Brown construction paper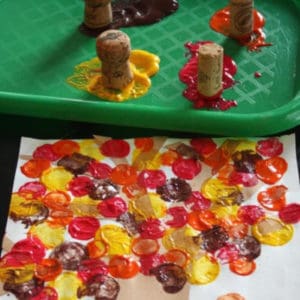 Procedures/Strategies: (how to present activity and what children will do)
Cut a tree form out of brown construction paper and glue it onto white paper.
Put out paints of different colours with corks of different sizes for each.
Let children stamp around the tree to make the leaves.
They can also stamp some falling and on the ground.
Guidance and Safety Considerations
Paint is messy, take necessary care.
Video
Fall Cork Painting by Parkland Players
Source: Autum Cork Painting by the Picky Apple and Bitaa
Raindrop Sun Catchers (Pre/GD)
Developmental Goal/Activity Objective:
To practice creative skills, as well as fine motor skills. To set up discussion of seasonal changes.
Materials Needed:
Blue crayons
Pencil or crayon sharpener
Wax paper
Scissors
Iron (clothing iron)
Procedures/Strategies: (how to present activity and what children will do)
Have children pick blue crayons, peel the paper off them (good for fine motor!).
Then children can sharpen the crayons over a large sheet of wax paper.
Spread the shaving across the wax paper as evenly as possible.
A teacher (not students) can then cover the wax paper with shaving with another piece of wax paper of the same size and run an iron on the lowest setting directly over the crayon shaving and wax paper.
The shavings and wax paper should all melt together and cool pretty quickly.
Once cool, children can then draw and cut out raindrop shapes from the wax paper (if it is easier, cut the large piece of wax paper into smaller portions so each child has a piece to work on).
Hole punch each drop and string it up with a long piece of tape. Have the drops be different lengths.
Hang the finished product in a widow for full effect.
Guidance and Safety Considerations
Hot iron can be dangerous. Be sure children are away from the iron when it is heating and being used.
Video
Raindrop Suncatchers by Parkland Players
Source: Raindrop Suncatchers by Pre-K Pages and Bitaa
Leaf Man Collages (OSC)
Developmental Goal/Activity Objective:
To create art inspired by literary works.
Materials Needed:
A copy of the book "Leaf Man" by Lois Ehlert
Leaves
Construction Paper
Glue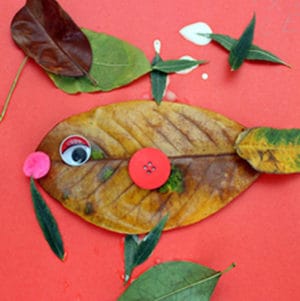 Procedures/Strategies: (how to present activity and what children will do)
Read the book "Leaf Man" as a group. Talk about the imagery in the book and how characters, animals, and scenery are created using leaves.
Go out to the park or walk around the neighbourhood with paper bags and collect leaves of different shapes and sizes. Each child should collect their own leaves to make a collage.
You may also put out supplementary items for children to use, like pom poms, buttons, googly eyes, etc.
Each child should be given a piece of construction paper and some liquid glue. They can then create a collage using the leaves of whatever they like. People and animals are great ideas.
Video
Leaf Man Collages by Parkland Players
Source: Leaf Collages by Gift of Curiosity and Bitaa
Potato Printed Twinkle Star Art (IT)
Developmental Goal/Activity Objective:
To practice fine motor skills and sensory experience as well as creativity.
Materials Needed:
Potatos
Star-shaped cookie cutter
Knife (for prep)
Blue construction paper
Paint
Procedures/Strategies: (how to present activity and what children will do)
Do the rhyme Twinkle, Twinkle Little Star together as a group.
First, prep the potato stamps by cutting a potato in half, then pressing the cookie cutter into it. Then with a knife cut the extra potato around the cookie cutter star so that the star sticks out. Make as many of these as you need for each child.
Select paint colours such as white, yellow or gold.
Allow children to stamp blue construction paper to make a starry scene.
Video
Potato Twinkle Star Art by Parkland Players
Source: Twinkle Twinkle Little Star Art by Best Toys 4 Toddlers and Bitaa
Bitaa Collaboration with Parkland Players
Download the Bitaa PDF here.
What is Bitaa?
Bitaa is an app designed to assist child care providers, early childhood educators, and parents with program and activity planning. The app is created based on the idea that children grow best when they can direct their own learning, and therefore most of the activities in this resource are simple and open-ended. Bitaa makes it so that educators, parents, and most importantly, children, can take the ideas or activities and put their own spin on it. Bitaa is also a compilation for educational ideas as it pulls ideas, and activities from a variety of sources, making it a hub for the exchange of educational information.
Why the Bitaa initiative?
In 2016 Parkland Players endeavoured to fill a gap in Early Childhood Education program planning. Teachers at our centre have always worked extremely hard to plan daily activities, following children's interest and educational goals. However, in order to support our educators in their lesson planning, the administration at the centre decided to create a resource that educators could refer to throughout the school year for those moments when they were uncertain of what themes to explore next, or how to expand on concepts, or even where to start in a new unit. And so, Parkland Players began compiling activities from a variety of sources and organizing them into themes. This new compilation of information, activities, and resources would later become Bitaa!
How does this origin story make Bitaa special?
Although Bitaa is a separate entity, the collaboration between Bitaa and the educators at Parkland Players is ongoing. The educators and administration at Parkland Players continue to contribute, ideas and feedback to Bitaa, as well as implement the activities in their daily educational method. This gives Bitaa a number of advantages in terms of the validity of the resource. First of all, it helps Bitaa to keep a fresh perspective. Bitaa is continually changing and being updated to better fit the needs of children and their development based on the work of teachers at Parkland Players. In this way, Bitaa is frequently being tested and improved through its proximity to a thriving childcare centre. Secondly, implicitly embedded in the resource are decades of experience from Early Childhood Educators who give their thoughts, approaches, and personalities to the resource. Lastly, collaboration with Parkland Players, a Reggio Emilia inspired centre, means that this resource is also focused on the fundamentals of the Reggio Emilia Approach. Activities are inquiry-based, flexible, and open-ended so that children across a variety of age groups can get the most out of each learning opportunity regardless of their individual developmental location. Essentially, Bitaa continues to support the educators at Parkland Players to be the best they can, and reciprocally, the educators at Parkland Players challenge Bitaa to continue to grow and improve its ability to contribute in meaningful ways to Early Childhood Education.